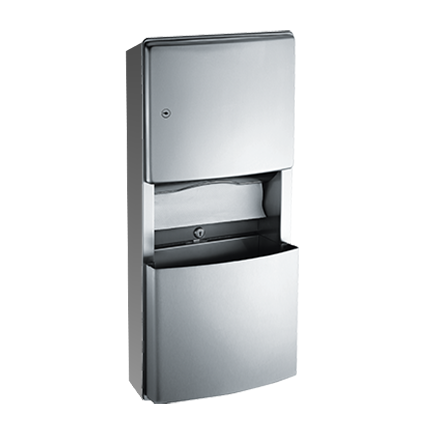 204623-9
ROVAL™ Surface Mounted Paper Towel Dispenser and Removable Waste Receptacle
---
Dispenses 350 C-fold, 475 multi-fold paper towels. 3.0 gal. (11.2 L) removable stainless steel waste receptacle with a tumbler lock. 22 gauge type 304 stainless steel door in a satin finish with a flush lock and a heavy-duty 3⁄16″ staked piano hinge on door.
Surface mounted with 9″ stainless steel collar.
Product Specifications
---
Unit Size:
12-3/4″ x 28″ x 6-1/2″
(325 x 710 x 165 mm)
Wall Opening:
11-1/4″ x 26-7/16″ x 3-15/16″ (286 x 672 x 100 mm)
ROVAL™ SURFACE MOUNTING COLLAR ADAPTER
Surface mounting collars conveniently adapt standard recessed mounting cabinets for use on walls with insufficient depth for recessing or wall materials that would make cutouts impossible.