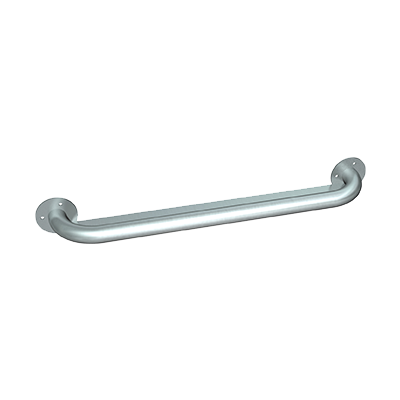 Security Series
Grab Bars – Various Lengths & Mounting Styles
---
ASI Grab Bars are designed to meet and exceed ADAAG requirements as published in ICC/ANSI A117.1-2003 and CFR 28 Part 36, Federal Register Vol. 56 No 144, 26 July 1991, that fabricated product is of adequate strength to support a load of 250 pounds (113.4 kg). Mounting to the wall is a critical part of the system to meet this requirement. To withstand the shear, tension or pullout and torsion loads generated by the maximum loading, the fastener system must be adequately sized. The product is capable of holding in excess of 1350 lbs (612.4 kg) when properly installed.
Security Grab Bars are fabricated of alloy 18-8 stainless steel, type 304. All exposed surfaces have satin finish. 
Model Options Available in mounting style (Front or Rear) and length. 
Front Mount Models: 159, 162, 164, 165, 167, 169
Chase (Rear) Mount Models: 160, 161, 163, 166, 168
Lengths Available: 18″, 24″, 30″, 36″, 42″, 48″
Image shows Front Mounting unit
** See Dimensions Section for all variations **
Product Specifications
---
159: Grab Bar, 18″ – Front Mount
160: Grab Bar, 24" – Chase Mount  
161: Grab Bar, 30" – Chase Mount  
162: Grab Bar, 30″ – Front Mount
163: Grab Bar, 36" – Chase Mount  
164: Grab Bar, 36″ – Front Mount
165: Grab Bar, 24″ – Front Mount
166: Grab Bar, 42" – Chase Mount  
167: Grab Bar, 42″ – Front Mount
168: Grab Bar, 48" – Chase Mount  
169: Grab Bar, 48″ – Front Mount