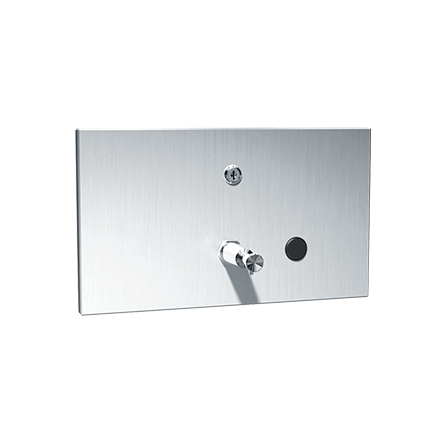 6326
Simplicity Collection Soap Dispenser (Liquid) Horizontal – Recessed
---
Holds and dispenses 47 oz (1.4 liters) of liquid and lotion soaps, synthetic detergents and antibacterial soaps containing PCMX and or/ Triclosan. Cabinet lies flat against wall. Door is held closed with a tumbler lock. A tamper resistant sight gauge also provided. All exposed surfaces have a satin finish.
Soap is manually dispensed by pushing valve button until supply is depleted. Unit may be reloaded easily by removing door/tank assembly with a partial load in-place and will continue to feed properly.
Soap Requirements: Proper usage of this dispenser requires, that only soap within the following range for viscosity and pH may be used. 
Viscosity Range (mPa·s or cP): 100 – 2500
pH Range: 5.5 ~ 6.5
A complete Dispensing Chart and other relevant technical documents are available for all dispensers. 
Product Specifications
---
Overall Dimensions:
10-1/4" x 6" x 6-5/8" (260 x 152 x 168 mm)
Wall Opening:
9″ x 4-7/8″ x 4-1/4″ (230 x 125 x 110 mm)