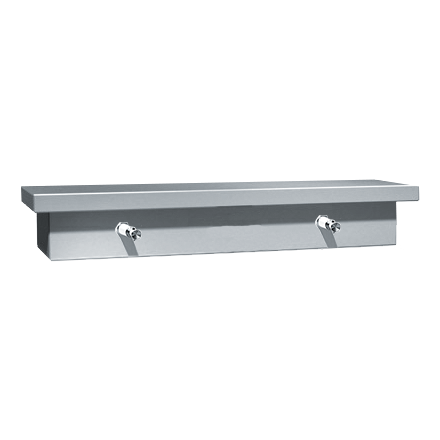 0318-A
Soap Dispenser and Shelves (Two Liquid Valves) – Surface Mounted
---
Holds and dispenses 83 oz or 2.6 quarts (2.5 liters) of liquid and lotion soaps, synthetic detergents and antibacterial soaps containing PCMX and/or Triclosan. Shelf/cover held closed with a concealed latch.
Includes two (2) all-purpose soap valves for mounting between lavatories.
Soap is manually dispensed by pushing valve button until supply is depleted. Unit may be reloaded easily by opening hinged shelf/cover. Tank supply is replenished manually on cycle determined by maintenance needs.
Product Specifications
---
Overall Size
17 3/8″ x 3 7/16″ x 5 1/16″ (440 x 87 x 130 mm).