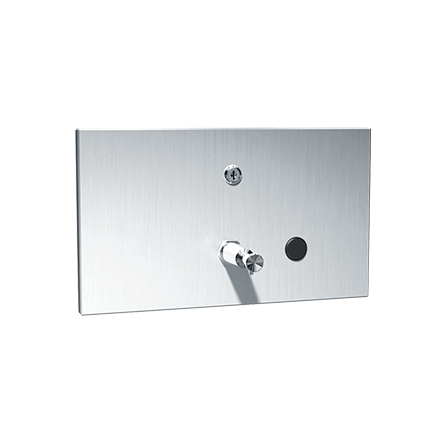 0326
Soap Dispenser (Liquid) Horizontal – Recessed
---
Stainless steel with satin finish, all-purpose soap valve, 57 fl. oz. (1.7 L) capacity of liquid, lotion or detergent soap, synthetic detergents and antibacterial soaps containing PCMX and/or Triclosan and shall dispense contents from a stem-type push-button valve. Valve operation complies with ADAAG and ICC/ANSI A-117.1 by providing actuation with a force less than 5 lbsf (22.2N) requiring only one (1) hand and with no tight grasping, pinching or twisting of the wrist required.
Soap Requirements: Proper usage of this dispenser requires, that only soap within the following range for viscosity and pH may be used. 
Viscosity Range (mPa·s or cP): 100 – 2500
pH Range: 5.5 ~ 6.5
A complete Dispensing Chart and other relevant technical documents are available for all dispensers. 
Product Specifications
---
Overall Dimensions:
10-1⁄4″ x 6″ x 4-1⁄2″ (260 x 152 x 115 mm)
Wall Opening:
9" x 4-7/8" x 4" (229 x 124 x 102 mm)
Spout Projection: 2-1⁄2″ (64 mm)