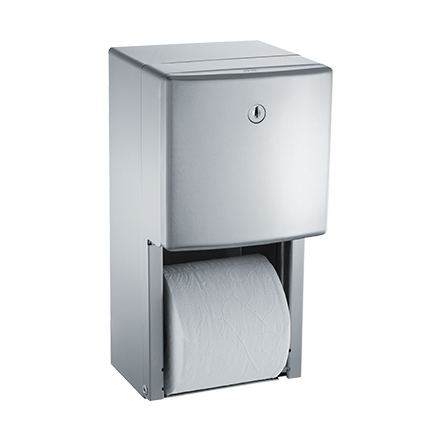 20030
Surface Mounted Twin Hide-A-Roll Toilet Tissue Dispeneser
---
Holds two rolls up to 5 1/4″ (133 mm) diameter (double roll capacity 3600 sheets). Top roll automatically drops in place when bottom roll is used up. Type 304 satin finish stainless steel cabinet and mechanism. Theft-resistant spindles with integral plated steel endpins.
Product Specifications
---
Overall Size
6 1/16″ W x 12 1/8″ H x 6 1/2″ D (154 x 308 x 165 mm)
ROVAL™ SURFACE MOUNTING COLLAR ADAPTER
Surface mounting collars conveniently adapt standard recessed mounting cabinets for use on walls with insufficient depth for recessing or wall materials that would make cutouts impossible.