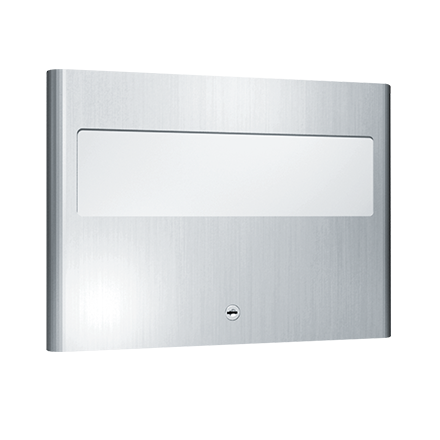 9477
Profile Collection Toilet Seat Cover Dispenser – Recessed
---
Recessed unit holds and dispenses 500 seat covers, fabricated of type 304 stainless steel. Covers are self-feeding until supply is depleted.
Unit is manually reloaded with a full box through access door, held closed with a rimless tumbler lock. 
Product Specifications
---
Overall Dimensions:
17-1/4″ x 12-3/4″ x 3-5/16″ (438 x 324 x 73 mm)
Wall Opening:
15-3/4" x 11-1/4" x 2-5/8" (400 x 285 x 67 mm)
American Specialties, Inc. reserves the right to make design changes or to withdraw any design without notice.