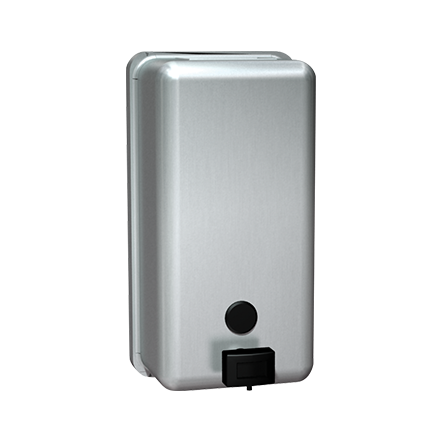 0347
Soap Dispenser (Liquid) Vertical – Surface Mounted
---
40 fl. oz. (1.2 L) capacity soap dispenser in stainless steel; satin finish comes with an allpurpose valve and a tamper-resistant refill indicator.
Push button to dispense soap. Unit is refilled through hinged door at top requiring special key (supplied) to open. Soap tank will continue to feed properly until soap level is below valve intake port. Tank supply is replenished manually.
Soap Requirements: Proper usage of this dispenser requires, that only soap within the following range for viscosity and pH may be used. 
Viscosity Range (mPa·s or cP): 100 – 3500
pH Range: 5.5 ~ 8.5
A complete Dispensing Chart and other relevant technical documents are available for all dispensers. 
Product Specifications
---
4-13/16" x 8-3/16" x 3-15/16" (122 x 208 x 100 mm)
Spout projection: 15⁄16″ (24 mm)
American Specialties, Inc. reserves the right to make design changes or to withdraw any design without notice.