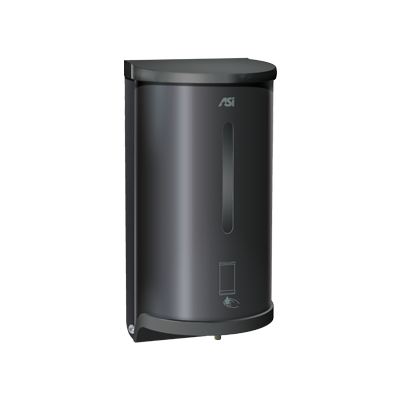 0362-41
Soap Dispenser – Automatic – 30 oz. Matte Black – Surface Mounted
---
Stainless steel soap dispenser in matte black finish with proximity sensor. Powered by 6 AA-size batteries (not included) and has tamper-resistant viewing window. Suitable for dispensing higher viscosity/antimicrobial soap. 
Capacity: 30 oz.(900 ml) using refillable soap cartridge provided.
Soap Requirements: Proper usage of this dispenser requires, that only soap within the following range for viscosity and pH may be used. 
Viscosity Range (mPa·s or cP): 2000 – 5000
pH Range: 5.5 ~ 8.5
A complete Dispensing Chart and other relevant technical documents are available for all dispensers. 
Product Specifications
---
4-13/16" x 10-5/8" x 4-1/8" (122 x 270 x 105 mm)
American Specialties, Inc. reserves the right to make design changes or to withdraw any design without notice.