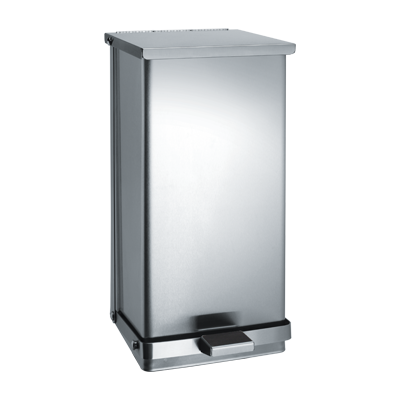 0815
Floor Standing Foot Operated Waste Receptacle
---
Waste receptacle is free standing and should be placed in appropriate position on finished floor. Holds 8 gal (30.7 L) of waste material. Top is attached to body with a stainless steel multi-staked piano hinge. Foot pedal & straps are 14 gauge. Waste receptacle has hemmed edges for safety and pull clamps for hanging a disposable trash bag (by others). All exposed surfaces are satin finish.
Owner provides disposable trash bags to hang on hinged pull clamps. Waste material is deposited into receptacle disposable liner bag (by others) through top opening while user is pressing down on foot pedal. Waste receptacle is emptied manually.
Product Specifications
---
10-3/4″ x 20-15/16″ x 10-1/2″ (273 x 531 x 267 mm)
American Specialties, Inc. reserves the right to make design changes or to withdraw any design without notice.