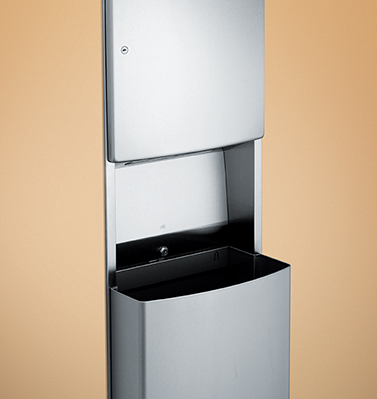 Engineered for high-profile settings, this collection adds elegance, durability and exceptional functionality to any washroom without becoming the focal point.
This collection is ideal for the most aesthetically demanding applications. All features are functionally superior, quickly installed and easily maintained.
What Makes the Roval™ Collection Unique?




STAINLESS STEEL CONSTRUCTION
Our collection is constructed of stainless steel, which is tough, durable, stain-resistant and easy to clean.
INTEGRAL LOCKING SYSTEM
Our durable, integral locking system prevents tampering and theft.
STAKED PIANO HINGES
Our heavy-duty, staked piano hinges provide security and a neat appearance, and they stand up to heavy use.
REMOVABLE WASTE RECEPTACLE
Fully removable waste cans allow contents to be easily discarded for efficient ongoing maintenance and cleanliness.
ASI Roval™ Collection