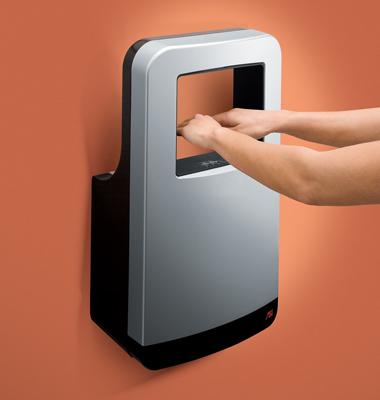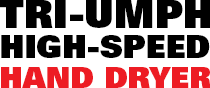 This state-of-the-art, ergonomic, high-speed hand dryer is ultra-hygienic with an outstanding filter system. With air blowing down from vents above, users dry their hands in under 12 seconds. This hand dryer allows users to triumph over germs with fast drying time in a comfortable, natural position without water splash-back. Easy to maintain, the TRI-Umph™ high-speed hand dryer makes perfect sense to meet all
washroom needs.
Product Details
What makes TRI-Umph™ Unique?




HIGH SPEED YET QUIETER AND ENERGY EFFICIENT
The TRI-Umph™ high-speed hand dryers take less than 12 seconds to completely dry hands. Low Decibel Level: 65-69.8 dB-A @ 2M
Ergonomic
This unit is wall mounted at a comfortable height in order to permit a natural posture while drying the user's hands.
Moisture Management System
Water blown from wet hands is pushed onto an absorbent and continuously evaporating ceramic plate, with any excess water channeled into a drip tray.
Triple Filter
Over 99% of airborne bacteria and particles as small as 0.3 microns are eliminated with this hand dryer's removable three-layer filter system.
ASI Hand Dryers