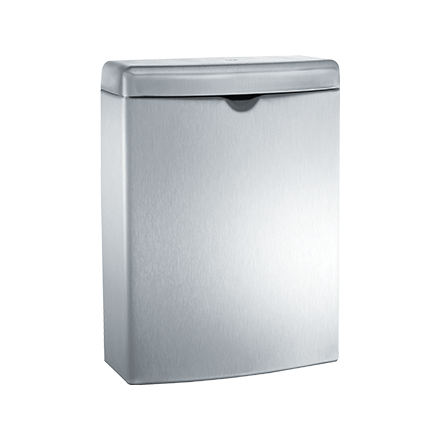 20852
Roval™ Surface Mounted Sanitary Waste Receptacle
---
Cabinet front is formed seamless and capacity of the unit is 1 gal. (3.8 L). Unit is 22 gauge type 304 stainless steel alloy 18-8 with satin finish. Receptacle full top edge is hemmed with return to inside for user and service safety. Receptacle is screw-mounted to wall or partition through concealed keyhole slots provided through rear panel. 
User lifts lid to deposit waste material. Unload unit by either removing the disposable wax paper liner bag (by others) or unhooking the unit from the mounting screws and inverting to empty into appropriate bulk collection container.
Product Specifications
---
7-1/4″ x 10″ x 3-1/2″ (185 x 253 x 89 mm)
Surface mounting collars conveniently adapt standard recessed mounting cabinets for use on walls with insufficient depth for recessing or wall materials that would make cutouts impossible.
American Specialties, Inc. reserves the right to make design changes or to withdraw any design without notice.