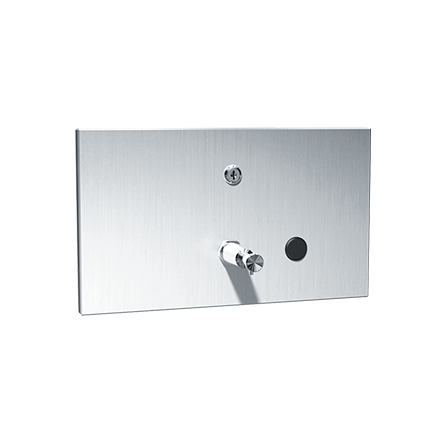 6326
Simplicity™ Liquid Soap Dispenser Horizontal – Recessed
---
Holds and dispenses 47 oz (1.4 liters) of liquid and lotion soaps, synthetic detergents and antibacterial soaps containing PCMX and or/ Triclosan. Cabinet lies flat against wall. Door is held closed with a tumbler lock. A tamper resistant sight gauge also provided. All exposed surfaces have a satin finish.
Soap is manually dispensed by pushing valve button until supply is depleted. Unit may be reloaded easily by removing door/tank assembly with a partial load in-place and will continue to feed properly.
Soap Requirements: Proper usage of this dispenser requires, that only soap within the following range for viscosity and pH may be used. 
Viscosity Range (mPa·s or cP): 100 – 2.5k
pH Range: 5.5 ~ 8.0
A complete Dispensing Chart and other relevant technical documents are available for all dispensers. 
Product Specifications
---
Overall Dimensions:
10-1/4" x 6" x 6-5/8" (260 x 152 x 168 mm)
Wall Opening:
9″ x 4-7/8″ x 4-1/4″ (230 x 125 x 110 mm)
Features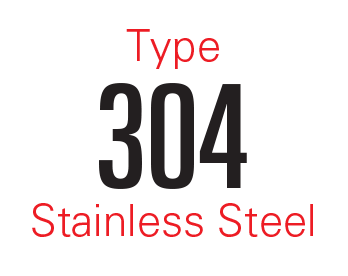 Stainless Steel


Construction

Our heavy-duty items are made of high-quality 304 stainless steel, which is tough, durable, stain-resistant and easy to clean.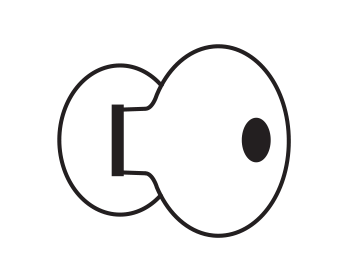 Tumbler


Locks

Our tumbler locks provide convenience and security with an elegant look.
American Specialties, Inc. reserves the right to make design changes or to withdraw any design without notice.