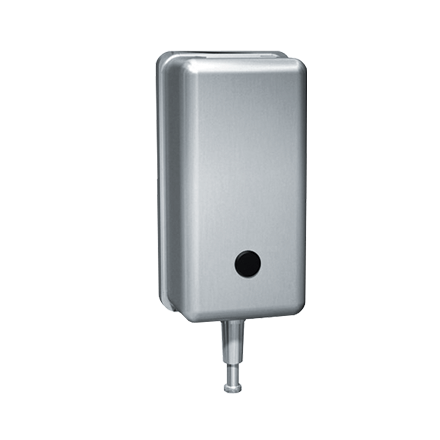 0346
Liquid Soap Dispenser (Vertical Valve) – Surface Mounted
---
40 fl. oz. (1.1 L) capacity soap dispenser in stainless steel satin finish. Comes with an all purpose valve mounted vertically from bottom of container for use in showers and a tamper-resistant refill indicator.
Soap Requirements: Proper usage of this dispenser requires, that only soap within the following range for viscosity and pH may be used. 
Viscosity Range (mPa·s or cP): 100 – 3.5k
pH Range: 5.5 ~ 8.5
A complete Dispensing Chart and other relevant technical documents are available for all dispensers. 
Product Specifications
---
4-13/16″ x  11″ x 3″ (122 x 279 x 76 mm).
American Specialties, Inc. reserves the right to make design changes or to withdraw any design without notice.