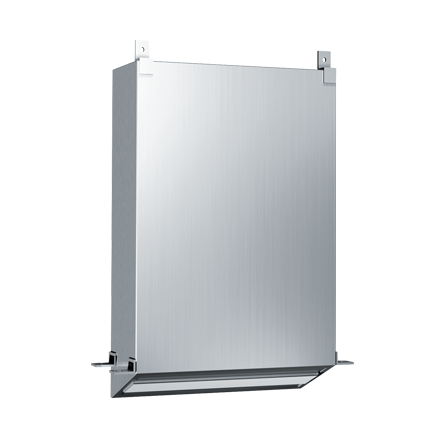 0439
Towel Dispenser (Concealed Body) – Recessed
---
Concealed body for pocket mounting behind mirrors.
This cabinet has 2 push-up flaps for bottom-filling with towels and dispenses 600 C-fold or 800 multi-fold paper towels; designed to conceal the dispenser behind mirror or wall so only the towel tray opening is visible. Towels are self-feeding until supply is depleted. Towels are refilled from the bottom via two push-up flaps.
Product Specifications
---
Note for Designers: Leave 6″ min. (152 mm) clearance below towel tray opening for space to pull towels; units are installed before hanging mirror or applying finished wall.
Overall Dimensions:
12-3/4″ x 18″ x 4-1/2″ (324 x 457 x 108 mm)
Wall Opening:
11-3/4″ x 18-1/4″ x 4-1/2″ (300 x 465 x 115 mm)
American Specialties, Inc. reserves the right to make design changes or to withdraw any design without notice.