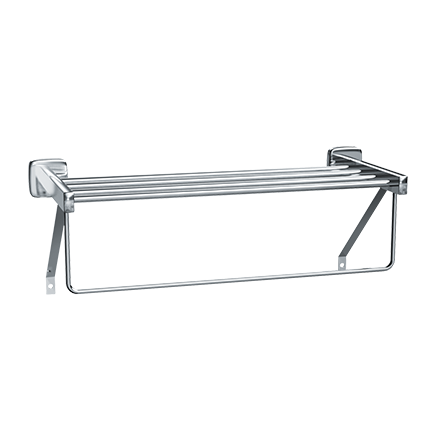 7309
SURFACE MOUNTED TOWEL SHELF
---
Fabricated of stainless steel alloy 18-8, type 304. Shelf posts shall be 1/2″ x 1″ (13mm x 25mm) rectangular tubing with formed mounting flange and bracket welded on end. Cross tubes shall be 3/8″ diameter (Ø10mm) and shall be held in receiver holes in support posts.
Model Option Notes:
-B is Bright finish
-S is Satin finish
Available in 18″ (457 mm) and 24″ (610 mm) length
7309-B18
7309-S18
7309-B24
7309-S24
Product Specifications
---
Overall height:
4 1/4″ (110 mm); projects 8″ (200 mm) from wall.