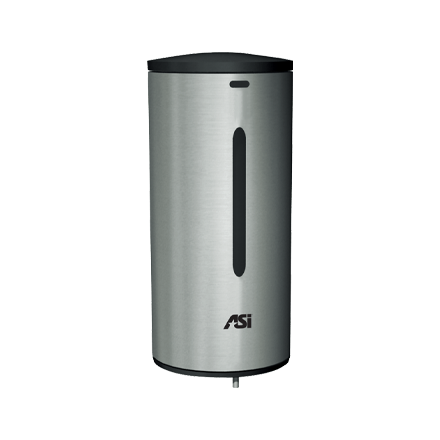 0360
Automatic Liquid Soap and Gel Hand Sanitizer Dispenser – 35 oz. – Stainless Steel – Surface Mounted
---
TOUCHLESS OPERATION:  A single shot of liquid soap or gel hand sanitizer is automatically dispensed by a battery operated mechanism when the sensor under the dispenser is activated. Dispensing duration preset by owner. Unit includes a tamper-resistant viewing window and a special key to access the removable lid.
Capacity: 34 oz.(1 L) 
Powered by 6 AA-size batteries (not included)
Soap Requirements: Proper usage of this dispenser requires, that only soap or gel hand sanitizer within the following range for viscosity and pH may be used. 
Viscosity Range (mPa·s or cP): 1 – 3.5k
pH Range: 5.5 ~ 8.5
A complete Dispensing Chart and other relevant technical documents are available for all dispensers. 
Product Specifications
---
4-17/32" x 9-1/4" x 4-7/8" (115 x 235 x 124 mm)
American Specialties, Inc. reserves the right to make design changes or to withdraw any design without notice.