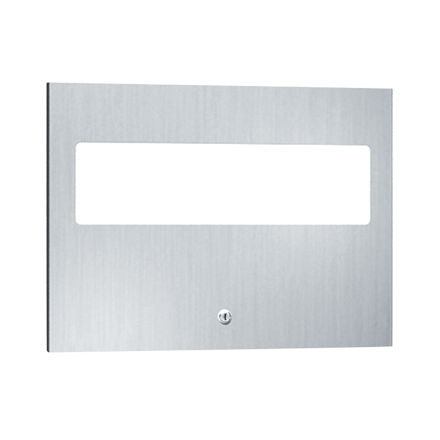 6477
Simplicity Collection Toilet Seat Cover Dispenser – Recessed
---
Installs in the back wall of toilet compartment. Capacity: 500 seat covers standard single or half-fold paper toilet seat covers contained in supply box. Door held closed with a tumbler lock keyed. 
Covers are self-feeding until supply is depleted. Unit is manually reloaded with a full box through access door.
Product Specifications
---
Overall Dimensions:
17-1/4″ x 12-3/4″ x 2-7/8″ (438 x 324 x 73 mm)
Wall Opening:
15-3/4″ x 11-1/2″ x 2-1/2″ (400 x 290 x 65 mm)
American Specialties, Inc. reserves the right to make design changes or to withdraw any design without notice.