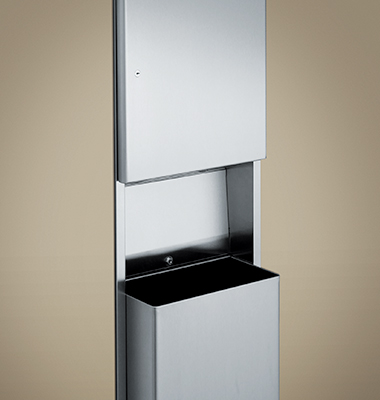 Manufactured with highly durable stainless steel doors and cabinets, this visually appealing collection with rounded edges stands the test of time. Its concealed hinges ensure smooth and long-lived operation, and its locks offer strong security.
What Makes the Profile Collection Unique?




HEAVY-DUTY
Our 16 gauge stainless steel doors are attached to 20 gauge stainless steel cabinets with concealed 3/16″ (5 mm) diameter piano hinges to handle heavy use.
RIMLESS TUMBLER LOCKS
Our rimless flush tumbler locks that are keyed alike provide convenience and security with an elegant look.
ROUNDED CORNERS
All doors have vertical edges rounded to a 3/4″ (19 mm) radius with welded corners for strength and to ensure no sharp edges for safety.
EASY LIFT OUT RECEPTACLE
Fully removable stainless steel waste cans allow contents to be easily discarded for efficient ongoing maintenance and cleanliness.
ASI Profile™ Collection